Wines IGP Pays d'Oc of
Domaine Saint Martin des Champs
Confidentiel
Viognier
IGP Pays d'Oc White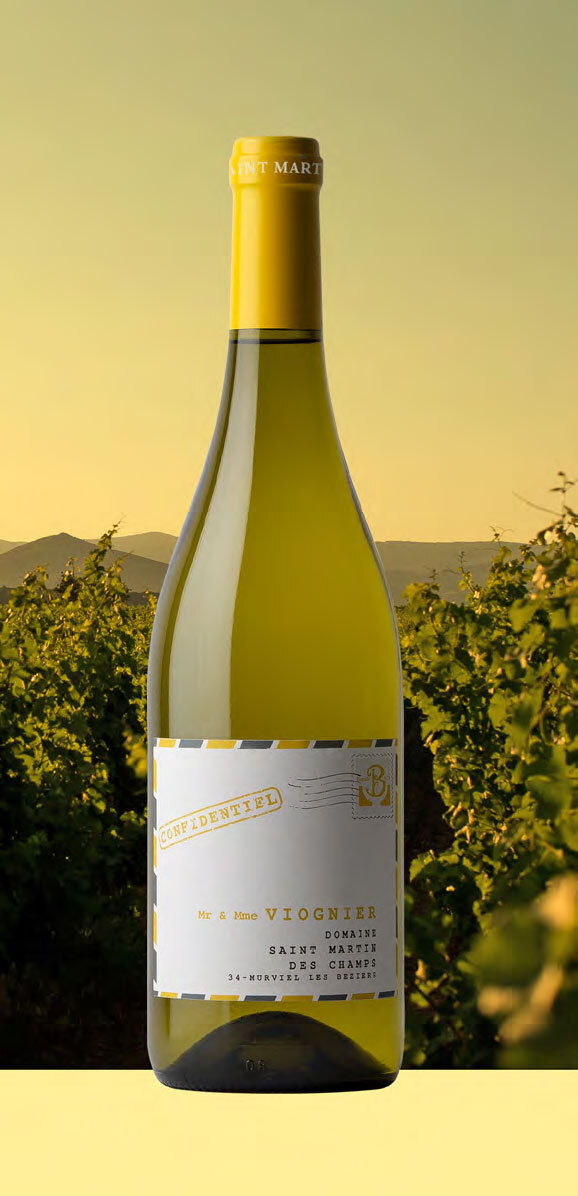 Grape Variety : 100 % Viognier.
Soil Type : Chalky, white soil. Northern Orientation.
Plantation Density : 4500 Vines to the hectare.
Yield : 60 hl / ha.
Type of culture : Environment friendly culture.
Vinification : The grapes are harvested at night in order to reduce the risk of excessive temperatures. The musts are extracted using a pneumatic press under inert gas. In this way all oxidation is avoided. The settling of the juice is effected at low temperature. Fermentation takes place under controlled temperature.
Maturing : 5 months in vats on lees with a stirring frequency determinate by tastings made by the cellar master. No fining of the wine and tartaric acid stabilization through low temperature. Light filtering before bottling.
Packaging : Bordelaise Élégance 750 ml bottles. Technical stopper.
May be aged : 3 years.
SOMMELIER'S APPRECIATION
At he nose, Viognier exhales dry fruit flavours (apricots, with exotic nuances. Its robe is very bright with crystalline reflections.
Its robe is very bright with crystalline reflections.
In the mouth, it surprises by its promptness with very frank flavours, spiced with a beautiful length, very pleasant.
Download the file in PDF